Zodiac Dome™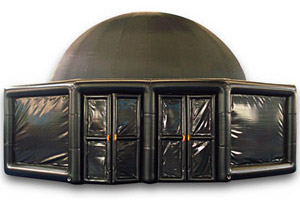 The semipermanent "Zodiac Dome" shown here allows the five supporting rings and the dual entryway to remain inflated, even during power outages. Made of durable marine vinyl, the dome and all equipment can be set up in 3-4 hours, making it the perfect temporary installation at malls or while your large fixed dome is being upgraded, or as an affordable permanent facility for new installations, as at the Houston Museum of Natural Science - Sugarland.
The handicapped-accessible entryway has four large panels, perfect for attaching posters of your events. The entryway is two separate antechambers, with the doors into the dome (A to A' and B to B' in the diagram) offset to eliminate light leakage into the dome. This then allows the projection console to be placed in the back of the dome between the interior doors. The permanently inflated system allows easy exit in case of a power outage. The projection surface is our custom gray ultralight material.
This fisheye image from inside the 8m HMNS Zodiac dome shows 100 students enjoying the show. The mirror is the small square in the center of the image (the back of the dome). If you want all visitors in chairs, the 8m dome can seat 50 or more depending on the size of the chairs and the arrangement. See a sample 8m dome layout with place for two wheelchairs in back - more can be seated with smaller chairs.
Take a video tour! of the HMNS Zodiac Dome
NOTE: The videos are a bit dark, but they are taken with ambient light. For more information, and an assembly video, please see the Zodiac page at Go-Dome.
Available for Rental! Have a major outreach event coming up? Or planning a major upgrade of your fixed dome? With sufficient lead time, we can make an 8m dome available for short or long-term rental. Don't be offline because you're installing new digital equipment in your big dome... rent a temporary dome for your facility.
Colors: The dome and the rings are black, but the doorway can be ordered in a number of standard colors including navy blue, light blue, black, red, green, and yellow. The height of the dome depends on the diameter, and is approximately half the diameter plus five feet, so for this 8m dome the ceiling height needed is 19 ft. Domes are not waterproof and are best used indoors with airconditioning. For temporary installations outdoors, they should be used under a canopy or pavillion away from direct sunlight, wind, and rain. (Not for permanent outdoor installations).
Other Domes: We offer the full line of Avela domes, including the new STAR dome and CUPOLA dome. In addition, we offer all elumenati domes.